A step-by-step guide to hanging art prints on a masonry or plasterboard wall.
We've been in the business of making framed art prints since 1982, so when it comes to hanging them, we know a thing or two. Here's our step-by-step guide on everything you need to know about how to hang a frame.
What you'll need:
Hammer
Pencil
Tape measure
Screwdriver
Power drill for masonry walls
Spirit level
Wall fixing suitable for your wall type (see step 4)
1. Choose the perfect wall position
Unless it's a very large statement art piece, avoid hanging your framed picture in an empty space. The best position is usually above a piece of furniture or feature, such as a table, sofa or fireplace. Art prints look great at eye level, it's the reason art galleries and museums display works like this. So hang your artwork approximately 1.4m from the floor to the centre of the art print. If you're hanging a group of prints, check out our guide to hanging a gallery wall.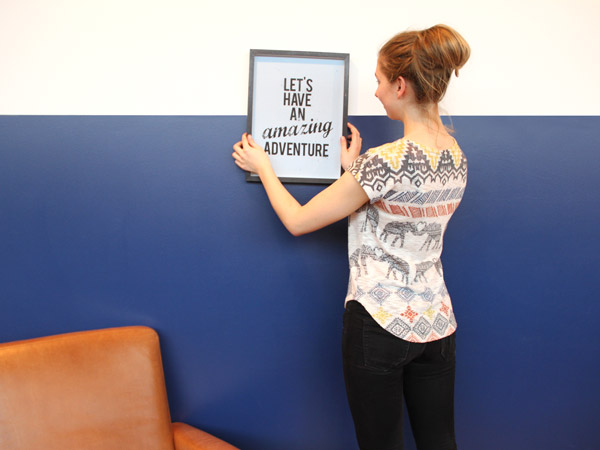 TOP TIP! DO NOT HANG YOUR FRAME ON NEWLY PLASTERED OR DECORATED WALLS. MOISTURE MAY BE TRANSFERRED FROM THE WALL TO THE PICTURE AND COULD RUIN THE FRAME. AVOID AREAS OF POTENTIALLY HIGH HUMIDITY, FOR EXAMPLE BATHROOMS.
2. Measure the frame hardware position
Frames can come with a variety of hanging hardware. The most common way to hang a frame is by a hanging cord but some larger frames come with metal hangers. To measure, lay the frame flat and measure the distance between your hanger and the top of the frame. If you have a hanging cord make sure you pull it taut first.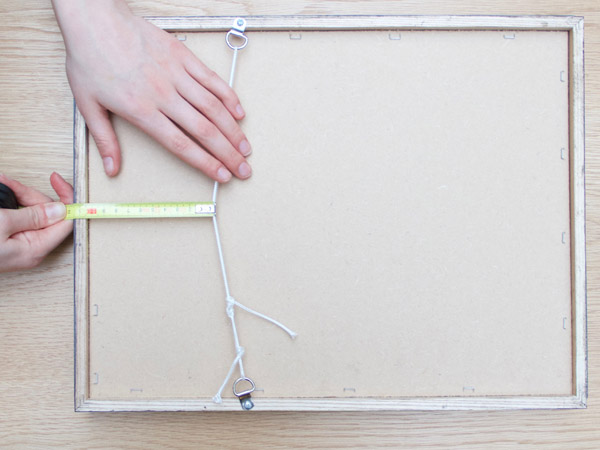 GOOD TO KNOW: KING & MCGAW FRAMED PRINTS UP TO ONE METRE SQUARE COME WITH A HANGING CORD. EXTRA-LARGE ITEMS ARE FITTED WITH ONE OR TWO HANGERS, DEPENDING ON THE FRAME SIZE AND WEIGHT. THE SERRATED HANGER HAS BEEN SPECIALLY DESIGNED SO YOU CAN ADJUST THE FINAL HANGING POSITION BOTH VERTICALLY (BY SLACKENING THE SCREWS) AND HORIZONTALLY.
3. Mark the fixing position on your wall
Next you need to make a mark where the fixings will go, a friend comes in handy here. Hold the frame up to the wall and make a pencil mark at the top corners of your frame.
If your frame has a hanging cord, you need to make a second mark in the middle of the first (see photo above).
Next, transfer your hardware measurements (from the previous step) on to the wall. Measure down from the pencil markings you've just made, so you now have the exact spot where your hanging fixing will go.
4. Choose and insert the right fixing for your wall type
Different wall types require different fixings. Knock on the wall or use a stud detector to find out what type of wall you're dealing with. A hollow sound indicates a stud wall (otherwise known as a drywall) consisting of a wooden, brick or metal frame with plasterboard panels on top. A solid sound suggests your wall is a masonry wall, made from brick, breeze-block, concrete or stone.
Double headed hanger screw If you're using a double-headed hanger screw with a stud wall, there's no need to make a pilot hole first. You can insert your screw using a screwdriver directly into the wall where you've made your pencil mark. The double-headed hanger screw is an option for both lightweight and medium weight frames. Alternative fixtures for stud walls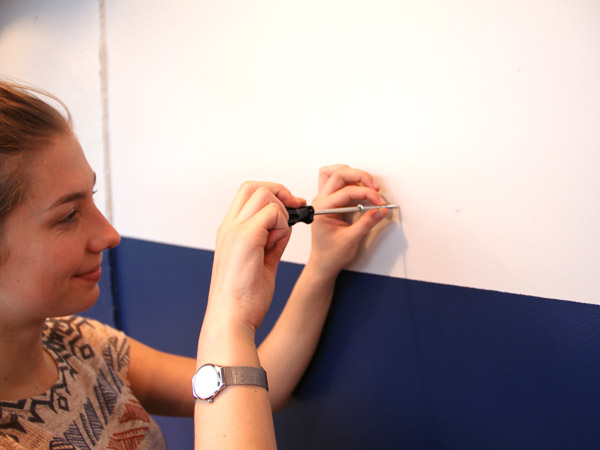 Double headed hanger screw & wall plug Whatever masonry wall fixing you use, you'll need to drill a hole to fit the wallplug you are using. Make the hole using a power drill with a suitably sized masonry drill bit and then push your wall plug in. We like B&Q's handy guide on fitting a wall plug. Once you have your wall plug flush against the wall, insert your screw all the way in. The double head will be left protruding from which you can hang your print. Alternative fixtures for masonry walls