One of the biggest barriers to getting healthy and fit is information overload.
If you've Googled just about anything related to losing fat, gaining muscle, and getting strong, you know what I mean.
You quickly realize that you've entered a circus of umpteen experts and "gurus" in a free-for-all melee to get your attention and money.
Well, I have good news:
Out of all the quads exercises you could do, a small handful stand head and shoulders above the rest.
If you simply focus on progressing on these superior exercises, you'll have no trouble building fantastic quadriceps (and legs).
Before we talk exercises, though, let's talk equipment…
Why You Should Stay Off the Smith Machine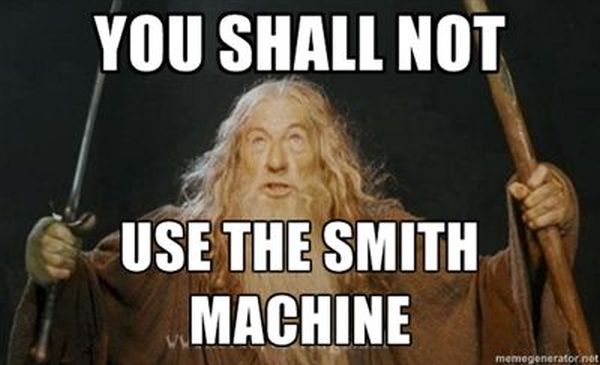 When it comes to working out, assume the following:
The easier something is–an exercise, workout, routine, etc.–the less effective it is.
There are exceptions, of course, but this holds true more often than not.
Thus, we shouldn't be surprised to learn that research shows that the Smith Machine produces smaller gains in muscle and strength than free weights.
The main reason the Smith Machine is easier than (and inferior to) free weights is the fixed, vertical path that the bar travels on.
This simplifies the movements and reduces the need for stabilizing muscles to keep the bar level and balanced.
The quadriceps workout given below is going to call for free weight squatting. If you've been squatting exclusively on the Smith Machine, get ready for a rude awakening.
I used to squat on the Smith Machine and worked up to a rather meager 235 pounds for a few reps. When I moved to the free weight squat, I struggled with 185 pounds.
(I've since worked up to something respectable: 365 pounds for 2 to 3 reps on my back squat and 275 pounds for 2 reps on my front squat.)
If you're worried that you'll be increasing your risk of injury by making the switch, you won't be.
You can free weight squat just as safely with the right setup (and without a spotter).
The key piece of equipment is the Power Rack.
How to Safely Squat Solo in the Power Rack
When you're lifting, you don't have to go to absolute muscle failure every set.
(Generally speaking, you want to end your sets one rep short of failure, which is the point where you struggle to get a rep and aren't sure if you can get another without help.)
This is why a squat stand doesn't work well for solo training.
With a stand, there are going to be times where you could have squeezed out another rep or two if you knew you weren't going to get stuck without a way out.
Well, the Power Rack is the perfect solution.
It allows you to squat (and bench press) by yourself without having to worry about whether or not you're going to get pinned under hundreds of pounds of weight.
Here's a high-quality (and affordable) Power Rack made by Rogue, which I highly recommend: